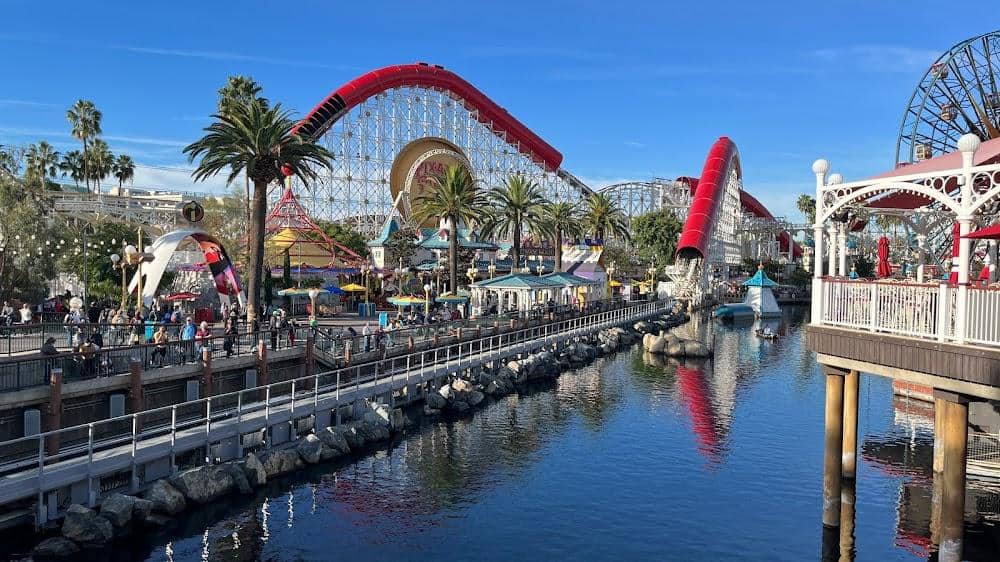 Marvel Land, officially known as Avengers Campus, is a unique and immersive land that opened its doors in Disney California Adventure Park on June 4, 2021. This land is dedicated to discovering, recruiting and training the next generation of superheroes.
Marvel Land, also known as Avengers Campus, opened in Disney California Adventure Park on June 4, 2021. This immersive land is dedicated to Marvel superheroes and features various attractions, character encounters, unique dining experiences, and exclusive merchandise.
Main Attractions
Avengers Campus is home to several attractions designed to immerse guests in the action. These include:
WEB SLINGERS: A Spider-Man Adventure – This interactive ride allows guests to sling webs alongside Spider-Man and help him capture rogue Spider-Bots.
Guardians of the Galaxy – Mission: BREAKOUT! – A thrilling drop tower ride that puts guests in the middle of a breakout attempt by the Guardians of the Galaxy.
Ancient Sanctum – Here, guests can explore the mystical arts with Doctor Strange and discover ancient, magical artifacts.
Avengers Headquarters – A central location where guests can encounter their favorite Marvel superheroes and witness epic action-packed shows.
Character Encounters
Avengers Campus is populated with a host of Marvel characters. Visitors can expect to interact with heroes like Spider-Man, Iron Man, Thor, Loki, Captain America, Black Panther, Black Widow, and many others.
Unique Dining and Merchandise
Avengers Campus offers unique dining experiences and exclusive merchandise. At the Pym Test Kitchen, food science meets the culinary world with dishes and drinks that play with proportions. Meanwhile, the Shawarma Palace food cart is a nod to the Avengers' favorite food.
The land also features exclusive Avengers Campus merchandise, including customizable Spider-Bots from WEB Suppliers and Marvel-themed clothing and accessories from the Campus Supply Pod.
Planning Your Visit
If you're planning to visit Avengers Campus, it's advisable to:
Arrive early to avoid long lines at attractions.
Use Disney's Genie+ service and Lightning Lane access to make the most of your time.
Keep an eye on the Disneyland app for show timings and character appearances.
Try out the unique food offerings at the various dining locations.
Don't miss out on the exclusive merchandise to remember your visit.
Visiting Avengers Campus offers fans of all ages the opportunity to step into the Marvel universe like never before. Whether you're slinging webs with Spider-Man, exploring the mystic arts with Doctor Strange, or dining at the Pym Test Kitchen, there's a superhero experience waiting for everyone at this innovative new land.
For more information on Avengers Campus and to plan your visit, head over to the official Disneyland website.
Frequently Asked Questions
What are the operational hours of Avengers Campus?
Avengers Campus follows the same operating hours as Disney California Adventure Park. However, these can change depending on the season or special events. It's always best to check the official Disneyland website or app for the most accurate information.
Are there any height or age restrictions for the attractions at Avengers Campus?
Yes, some attractions at Avengers Campus do have height and age restrictions. For instance, WEB SLINGERS: A Spider-Man Adventure requires guests to be at least 40 inches tall, and Guardians of the Galaxy – Mission: BREAKOUT! requires guests to be at least 40 inches tall. Children under age 7 years must be accompanied by a person age 14 years or older.
Can I purchase tickets specifically for Avengers Campus?
No, Avengers Campus is part of Disney California Adventure Park, so you'll need to purchase a ticket for the park to access Avengers Campus. There's no separate ticket just for Avengers Campus.
Is Avengers Campus accessible for guests with disabilities?
Yes, Avengers Campus is accessible to guests with disabilities. The attractions, restaurants, and shops are designed to be wheelchair accessible. Additionally, Disneyland offers services like Disability Access Service and Rider Switch to accommodate guests with mobility restrictions.
Can I dress up as my favorite Marvel character when visiting Avengers Campus?
While Disney encourages guests to show their Marvel spirit, costumes that could be mistaken for character performers are not allowed for visitors 14 years and older. However, DisneyBounding, dressing in outfits inspired by favorite characters, is encouraged.