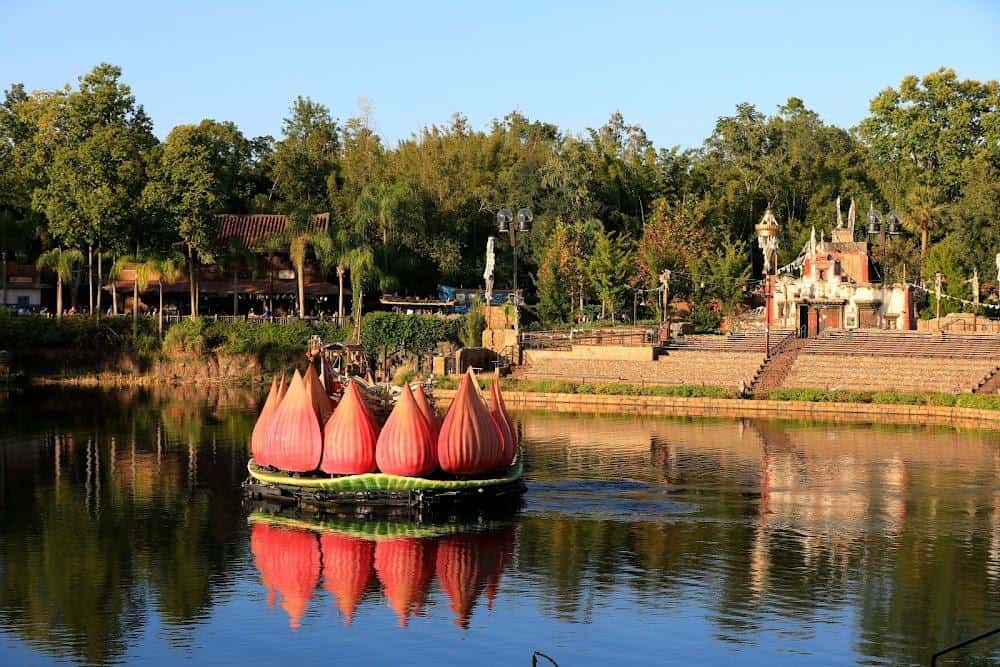 Disney's Animal Kingdom, located in Orlando, Florida, is one of the most unique theme parks in the world. With its diverse range of attractions, live shows, dining options, and emphasis on conservation, Animal Kingdom offers a rich and immersive experience that goes beyond the traditional theme park visit. This comprehensive guide will delve into all the amazing things you can do at Animal Kingdom to make your visit truly unforgettable.
At Disney's Animal Kingdom, you can explore top attractions like Expedition Everest, Avatar: Flight of Passage, and Kilimanjaro Safaris. You can also enjoy live shows such as Festival of the Lion King and Finding Nemo – The Big Blue…and Beyond! Dining options range from Asian-inspired cuisine at Yak & Yeti Restaurant to quick bites at Flame Tree Barbecue. For families, there are age-appropriate attractions and baby care centers. Don't miss out on lesser-known attractions like Rafiki's Planet Watch and the Discovery Island Trails. The park also emphasizes education and conservation, making it a unique theme park experience.
Top Attractions
Expedition Everest
Take a thrilling roller coaster ride through the Himalayan mountains, where you'll encounter the mythical Yeti. This high-speed adventure is a must-try for thrill-seekers.
Avatar: Flight of Passage
Experience the breathtaking world of Pandora in this immersive 3D ride. Soar on the back of a banshee through stunning landscapes and feel the magic of the Avatar universe.
Kilimanjaro Safaris
Step into a realistic African safari on this guided tour. With 34 species of live animals, including giraffes, zebras, elephants, and lions, this safari offers a unique opportunity to see these magnificent creatures up close.
DINOSAUR
Travel back in time on this dark ride adventure to rescue a dinosaur before a meteor strike. Experience realistic animatronics and special effects that bring the prehistoric world to life.
Festival of the Lion King
Enjoy a live musical performance inspired by the classic Disney film. With its stunning acrobatics, singing, and dancing, this show is a delight for all ages.
Must-See Shows and Performances
Finding Nemo – The Big Blue…and Beyond!
This musical brings your favorite characters from the Disney-Pixar movies Finding Nemo and Finding Dory to life. It's a vibrant, heartwarming show that's perfect for families.
UP! A Great Bird Adventure
Animal and bird enthusiasts will love this show. It features a variety of birds from around the world and offers a fun and educational experience.
It's Tough to Be a Bug
Step into the world of insects in this entertaining 3D show. Learn about the lives and challenges of bugs in a fun and interactive way.
Dining Options
When it comes to dining, Animal Kingdom offers a variety of options to suit every taste. From Asian-inspired cuisine at Yak & Yeti Restaurant to exotic dishes at Tiffins, there's something for everyone. For a quick bite, Flame Tree Barbecue and Satu'li Canteen offer delicious meals. And for a refreshing drink or snack, head over to the Nomad Lounge.
Tips and Tricks for Navigating Animal Kingdom
To make the most of your visit to Animal Kingdom, arrive early, preferably before the park opens. Plan your day around must-do attractions and make use of Disney Genie+ and Lightning Lane to avoid long queues. Take breaks and explore the beautiful scenery and animal exhibits at a leisurely pace.
For Families with Young Children
Animal Kingdom is a great place for families with young children. There are plenty of age-appropriate attractions such as Kilimanjaro Safaris, Na'vi River Journey, and TriceraTop Spin. The park also offers baby care centers for diaper changes and feeding.
Lesser-Known Attractions
Don't miss out on lesser-known attractions like Rafiki's Planet Watch, the immersive theming in Harambe, and the beautiful Discovery Island Trails. These hidden gems offer a chance to slow down, appreciate the park's details, and learn more about the animals and their habitats.
Animal Kingdom's Conservation Efforts
Animal Kingdom is not just about entertainment; it's also about education and conservation. The park is involved in various conservation and wildlife preservation efforts through the Disney Conservation Fund and collaborations with various organizations.
Best Times to Visit
To avoid crowds and maximize your experience, consider visiting Animal Kingdom on weekdays, particularly Wednesdays. Arrive early and use Disney Genie+ and Lightning Lane to minimize wait times.
From thrilling rides and live shows to animal encounters and dining experiences, there's so much to do at Animal Kingdom. With careful planning and an adventurous spirit, you're sure to have a memorable visit.
Frequently Asked Questions
What are the opening hours of Disney's Animal Kingdom?
The opening hours of Disney's Animal Kingdom vary depending on the season. Generally, it opens at 8 AM and closes between 5 PM to 8 PM. It's always a good idea to check the official Disney website for exact timings on the day of your visit.
Do I need to book tickets in advance for Disney's Animal Kingdom?
Yes, it's highly recommended to book your tickets in advance to ensure entry, especially during peak seasons. Tickets can be purchased through the official Disney website.
How do I use Disney Genie+ and Lightning Lane?
Disney Genie+ and Lightning Lane are services that allow you to skip the regular lines at select attractions. They can be purchased for an additional fee through the My Disney Experience app on the day of your visit.
Is there a dress code for Animal Kingdom?
There is no specific dress code for Animal Kingdom, but comfortable clothing and shoes are recommended as there is a lot of walking involved. Also, remember to bring hats, sunglasses, and sunblock to protect yourself from the Florida sun.
Are there vegetarian or vegan dining options in Animal Kingdom?
Yes, Animal Kingdom offers several vegetarian and vegan dining options. Most restaurants have plant-based options, and you can always ask the staff for assistance if you have specific dietary needs.
Is there a place to store personal belongings in Animal Kingdom?
Yes, there are locker rentals available at Animal Kingdom where you can store personal belongings. The lockers are available in three sizes and can be rented for the entire day.
Can I bring my own food and drink into Animal Kingdom?
Yes, guests are allowed to bring their own food and non-alcoholic beverages into the park, with some restrictions. Items should not require heating, and glass containers (except for small containers such as baby food jars) are not allowed.