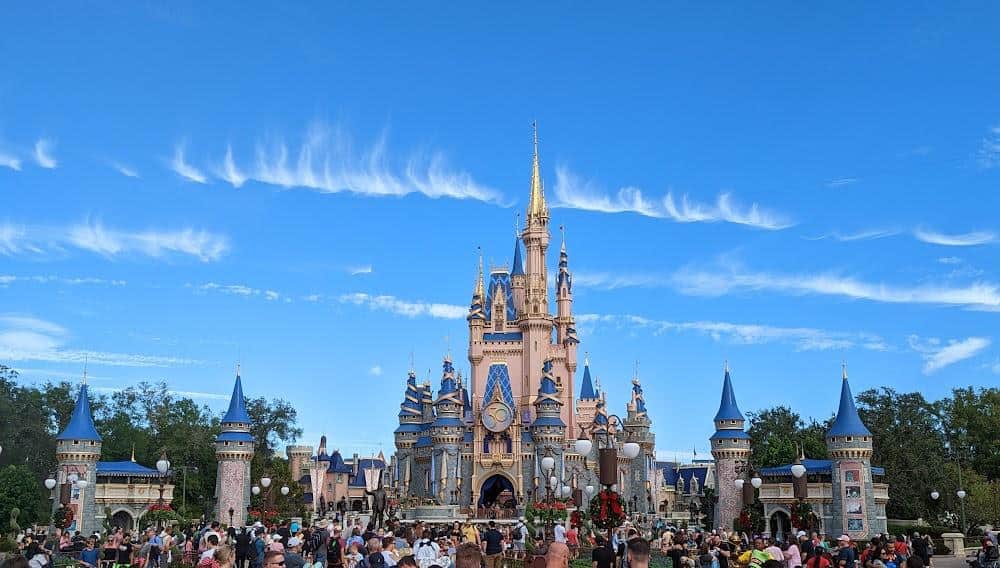 Disney World, often referred to as the "Happiest Place on Earth," is a popular destination for families, friends, and Disney enthusiasts from all over the world. However, its popularity often leads to large crowds, especially during peak seasons. This article will dive into the reasons behind the high crowd levels and provide some tips on how to navigate them.
Disney World is often crowded due to its global popularity as a top vacation destination. Peak seasons, holidays, special events, and annual passholder visits contribute to the high crowd levels. Additionally, a strong economy and increased consumer confidence can lead to more people spending on vacations like Disney World. Despite the crowds, Disney employs various strategies to manage crowd control, and guests can use tools like the Disney Genie+ service and crowd calendars to optimize their visit.
The Magic of Disney World
Before we delve into why Disney World is so crowded, it's essential to understand its appeal. Disney World's Magic Kingdom Park is the most popular theme park globally, consistently holding the highest attendance numbers from 2019 to 2022. It's home to iconic attractions like "it's a small world," Haunted Mansion, Pirates of the Caribbean, Space Mountain, and Seven Dwarfs Mine Train. The park also hosts parades and live shows that captivate audiences of all ages.
Other parks within Disney World, such as EPCOT, Disney's Hollywood Studios, and Disney's Animal Kingdom, also offer unique attractions that draw crowds. EPCOT's World Showcase, Hollywood Studios' Star Wars: Galaxy's Edge, and Animal Kingdom's Pandora – The World of Avatar are just a few examples.
Why Is Disney World So Crowded?
Peak Seasons and Holidays
Disney World's crowd levels peak when American kids are out of school, which includes mid-spring, summer until late August, and the holidays. Major holidays like Easter, the 4th of July, Thanksgiving, Christmas, and New Year's are particularly busy times. The pleasant weather in March-May also contributes to the increased crowds during this period.
Special Events and Celebrations
Disney World hosts various special events throughout the year, such as the EPCOT International Food & Wine Festival, RunDisney events, and holiday celebrations. These events attract more visitors, leading to larger crowds.
Annual Passholders
Disney World offers annual passes, allowing passholders to visit the parks multiple times throughout the year. When blockout dates for certain passes are lifted, there can be a surge in attendance.
Improving Economy and Consumer Confidence
A strong economy and increased consumer confidence can lead to more people choosing to spend their money on vacations, including trips to Disney World.
How Disney Manages Crowds
Despite the large crowds, Disney World employs various strategies to manage crowd control. These include planning ahead with crowd calendars, utilizing the Disney Genie Service to help guests plan their day, implementing virtual queues, and using MagicBands and sensors to monitor crowd levels in different areas of the park. They also offer a paid service called Disney Genie+, which replaced the FastPass+ system and provides priority access to a wide range of attractions for an additional fee.
Managing Your Disney World Experience
While crowds can potentially affect your Disney World experience, there are ways to manage and avoid them. Planning ahead, using tools like Disney Genie+ to optimize your visit, making dining reservations in advance, and visiting during less busy times of the year can significantly improve your experience.
Crowd calendars, available online, provide estimates of crowd levels based on historical data and other factors. However, these estimates may not always be accurate, and actual crowd levels can differ from predictions.
Disney World's popularity and large crowds are a testament to its appeal as a top vacation destination. By understanding the causes of these crowds and implementing strategies to manage them, you can ensure a magical experience at the "Happiest Place on Earth."
Frequently Asked Questions
What are the least crowded times to visit Disney World?
The least crowded times at Disney World tend to be during the school year, specifically in January, February, early May, and late August through September. However, keep in mind that crowd levels can fluctuate based on various factors, including special events and holidays.
How does the Disney Genie+ service work?
Disney Genie+ is a paid service that allows guests to select one attraction at a time for priority access. The service costs $15 per ticket, per day at Disney World. You can make your first Disney Genie+ selection of the day at 7 a.m., regardless of whether you're in the park or not. Once you've used your initial selection or after a certain period has passed, you can make another selection.
What are blockout dates for Disney World annual passholders?
Blockout dates are days when certain pass types are not valid for park entry. These dates typically fall on high-demand dates such as holidays or peak vacation periods. The specific blockout dates vary depending on the type of annual pass purchased.
What are some strategies to avoid long lines at Disney World?
Some strategies to avoid long lines include using the Disney Genie+ service for priority access to popular attractions, arriving at the parks early before the crowds build up, taking advantage of Extra Magic Hours if you're staying at a Disney Resort hotel, and visiting less popular attractions during peak times.
Can I bring my own food and drinks into Disney World?
Yes, guests are allowed to bring food items into the parks, including snacks and foods that do not require heating. However, alcoholic beverages and glass containers, with the exception of small containers such as baby food jars, are not permitted.